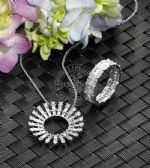 $2,500 Gift Card
Dream a beautiful daydream: you have just returned from a shopping trip with a bag of your favorite fruits. You slice one open and are stunned to find inside a piece of precious golden jewelry to treasure forever:
A) Dazzling 14K white gold orb-shaped pendant studded with diamond baguettes and round diamonds;
B) Fabulous 14K white gold diamond eternity band formed of baguette and round diamonds in an unbroken circle of light.
OR choose the elegant jewelry you love with a $2,500 gift card at Kirsh's magnificent showroom.
Remember that KSCVK's kallahs will treasure their joyous wedding and first years of married life thanks to your kindness.
Co-Sponsored by Table One Catering, in memory of Batsheva bas Arye A"H & by Shmuly and Ita Levy, in memory of our dear sister Chaya Mussia Levy OBM bas HaRav Reb moshe Halevy Sheyichye who passed away at the tender age of 17,
י"ט טבת, תש"ס