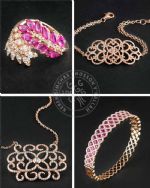 $1,500 Gift Card
Not long ago you did a big favor for a neighbor, and she is so grateful that now she wants to reward you with a spectacular $1,500 gift card to Kirsh Jewelry. The favor was your generous donation to KSCVK, and the neighbor is KSCVK, on behalf of all the grateful kallahs whose weddings will be beautiful because you care. Here is a small selection from the fabulous collection of pieces you can choose from at their state-of-the-art showroom:
A) Sumptuous floral band of scintillating pink sapphires and diamond clusters to hug your finger in an elegant cocktail ring;
B) Stunning yet delicate medallion bracelet of Victorian-style diamond hearts and swirls rendered in 14K rose gold on a double chain;
C) Tender sweetheart medallion necklace features breathtaking diamond tendrils surrounding a captivating center diamond, fastened with a dainty chain;
D) Outstanding openwork braided bangle bracelet showcases opulent pink sapphires aced with magnificent diamonds, set in rich 14K rose gold.
Sponsored by Rivky Kirsh of Kirsh Jewelers