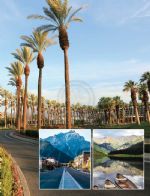 Leave it to KMR to provide you with a rejuvenating vacation in
unparalleled luxury. Choose from:

Palm Springs
5 Days / 4 Nights
Winter break with KMR is sure to be memorable at the picturesque
Miramonte Resort and Spa. Enjoy outstanding cuisine, meaningful shiurim
and exciting entertainmemt all in the perfect climate of Palm Springs.
Banff, Alberta (Canadian Rockies)
5 Days / 4 Night
Few hotels in the world can rival the magnificent Fairmont Banff Springs,
with its opulent rooms in one of the most beautiful settings on earth. Enjoy
the 7 waterfalls of Johnston Canyon, canoe breathtaking Lake Louise, play
golf, soar to the summit of Sulphur Mountain in an air gondola or just relax
and enjoy the view.
Vail, Colorado
5 Days / 4 Night
Vail, Colorado beckons you to enjoy spectacular Rocky Mountain views,
pamper yourself in separate spa facilities and enjoy hiking, fishing, golfing
and white water rafting. Luxury accommodations at the Vail Cascade Resort
and Spa.
Cholov Yisroel, glatt kosher, chassidishe shechita and mashgichei temidi.
(Not responsible for typographical errors)
Winner responsible for taxes and gratuities.
www.kmrtours.com
Co-Sponsored by KMR Tours and
לע''נ יצחק שמואל וחנה ברכה בעקער ע"ה