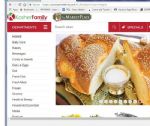 $300 Gift Card
Kosherfamily.com the virtual storefront of the Marketplace Supermarket,
provides an amazing online shopping experience. The user friendly website
makes it easy to shop from the comfort of your home. Enjoy this Gift Card to
the site and in just a few hours fresh groceries will be at your door.
Sponsored by
Kosherfamily.com