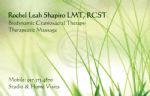 (CST) is a gentle, hands-on holistic healing method that releases tensions
deep in the body to improve emotional health, physical well-being and
whole-body performance. CST has gained its popularity for effectively
relieving its clients from anxiety and stress related symptoms, headaches,
insomnia, fatigue, chronic pain, hormone imbalances and many other
health concerns. Its gentle approach offers a relaxing pleasant experience
for all ages. Includes 2 one-hour adult sessions.